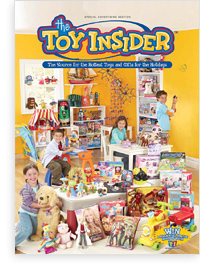 The Toy Insider

Contact: Jonathan Samet
The Toy Insider
212-575-4510, Ext. 2321
jsamet@adventurepub.com

For more information, click The Toy Insider
cover on the right.





THE TOY INSIDER ANNOUNCES ITS HOT 20 TOYS
FOR THE 2008 HOLIDAY SEASON
Comprehensive Holiday Toy Guide Available in Redbook
November Issue on Newsstands October 16
New York, NY (Sept. 25, 2008) – The Toy Insider (www.thetoyinsider.com), the annual holiday toy guide publication of Adventure Publishing Group, Inc. announced today its HOT 20 TOYS for the 2008 holiday season. The HOT 20 serves as the opening section of the Toy Insider, which will run in the November issue of Redbook magazine, on newsstands October 16.
Parents and grandparents looking for the perfect present this holiday season can turn to the Toy Insider, a comprehensive guide featuring expert toy and gift recommendations. All of the toys and gifts in the guide have been selected by a panel of toy trend experts, led by industry veterans Jonathan Samet and Laurie Schacht, Group Publisher and President of Adventure Publishing, respectively and Jackie Breyer, Editor-in-Chief of The Toy Book, the leading trade publication in the toy industry. Over the past year, the Toy Insider team reviewed and evaluated the toys that will be available this holiday season to determine the most compelling and hottest new products to help gift givers get an early start on their holiday shopping.

Jam-packed with close to 90 new toy recommendations from 57 different manufacturers, the Toy Insider is a convenient and user-friendly guide listing gift ideas for all ages and both genders. Each section – Hot 20, 0-2 years old, 3-5 years old, 6-8 years old and 9+ years old – includes a description of the developmental needs and interests for that specific age group to assist busy parents and grandparents in finding the perfect gift. A toy skill key, located on the Hot 20 page, provides a list of icons that are matched to each toy, offering even greater assistance with age-appropriate gift giving. The last page of the 24-page guide even features a checklist of all the selected toys, which can be used as a handy shopping list.
"Whether you are a parent, grandparent, aunt, uncle or cousin, everyone is looking to pick out the perfect gift for the child in their life and we are thrilled to be able to offer a variety of top-notch recommendations," said Jonathan Samet, Co-Publisher of the Toy Insider. "Our guide is the perfect resource for busy parents just like us and based on the tremendous response we received over the last two years, we know that there is a real need for such a guide during the hectic holiday shopping season."
This year's HOT 20 includes the following:

Elmo Live - Fisher-Price
K's Kids Ryan 28 Activity Center - Ohio Art
Sit to Stand Alphabet Train - VTech
Smart Builders Piano - MEGA Brands

Club Penguin Plush - JAKKS Pacific
Furreal Friends Biscuit, My Lovin' Pup - Hasbro
Handy Manny 2-in-1 Transforming Tool Truck - Fisher-Price
Invincible Iron Man Action Figure - Hasbro
KidiArt Studio - VTech
Tink's Talking Café - CDI

Air Hogs Zero Gravity Micro - Spin Master
Hannah Montana Malibu Beach House - Play Along
Clickables Fairy Charms Starter Set - Techno Source
Barbie iDesign Ultimate Stylist - Mattel
ME2- iToys
Bakugan Battle Brawlers - Spin Master

Monopoly Here & Now: The World Edition - Hasbro
Spy Video ATV-360 - Wild Planet
U-Dance - Tiger Electronics
Youth Signature Street Surfing Set - Street Surfing
For more information, please visit www.thetoyinsider.com.



The Toy Insider is the source for the hottest toys and gifts for the holidays. Now in its third year, the Toy Insider is an annual guide featuring toy and gift recommendations broken down by age categories. Jam-packed with close to 90 toy recommendations from 57 different manufacturers, each toy was carefully selected by a team of experts all with years of experience in the toy industry. The Toy Insider is published by Adventure Publishing, publisher of leading industry trades The Toy Book and The Licensing Book.

About Adventure Publishing:
Adventure Publishing Group Inc. (www.adventurepublishinggroup.com) is the leading publisher of magazines for the toy and licensing industries since 1983. Its portfolio of magazines include: The Toy Book, The Licensing Book and Specialty Toy & Gifts. The Toy Book provides retailers with the latest in merchandising, trends, licensed products and new marketplace introductions and is published monthly. The Licensing Book focuses on character properties, brands and trademarks with topical features, editorials, legal advice and exclusive retailer information. Two Adventure Publishing-produced newsletters, The Toy Report and The Licensing Report, are weekly newsletters that keep their readers up to date on all breaking news and deals in the toy and licensing industries and are available in email format.
Please contact Gina Sisco at 212.905.6263 or email gsisco@js2comm.com for any inquiries, image and interview requests.
---
View 2007 The Toy Insider Press Release
---